It's that time again, when the grass is green, spring is here, and so too are the flies. While good fly control is important to any horse property, which includes such mundane things as manure management, fly masks are also a good idea. A fly mask is a mesh "mask" that goes on the horse's face to keep flies off of it. When used properly, including checking daily for fit, rubs, or debris, they can be a beneficial part of any pest control program.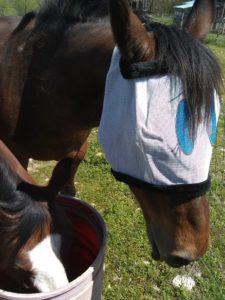 This year, I splurged on some new fly masks, including the one that Fortune is modeling here. I admit, I love the masks with the big googly eyes. She's had ones with sunglasses or butterflies "on the nose" or other silly faces. It's a tradition and one that we've done now for probably at least ten years, if not more. She's also very good about keeping them on, something that can't be said for her pasture mates.
I have plans and material to make my own fly masks and I hope to do that sometime soon. I do want to get some more mesh, though I also have older fly masks where the velcro has given out that I may repurpose for this. My goal is to make some in blaze orange for hunting season, that way even though we're pretty safe here, the horses are protected.
Fly masks are one of those things that are good for the spring and summer. There are tons of styles on the market. The one that she's modeling is a Tough-1 fly mask, and we've also used Farnam and DuraMask (Duravet) brands as well. I find the double velcro works better than just a single loop of velcro, and of course, don't forget to remove them to wash, brush, and in general check for wear and tear.