Muse Stars are 300% more awesome!
Seriously, you are! Look, I know you could just buy these books when they're released, but when you become a Muse Star you're not only providing sustainable funding allowing me to continue to write, but you're going to get AWESOME bonuses. If you're curious as to what they are, scroll down and check them out.


Become the VIPs who keep the muse flowing, the readers who keep the books coming, the song in my heart, the…well, you get the idea. For only $3/month you'll gain access to the following benefits:
Access to 2 currently ongoing serials that are published HERE first.
BONUS content for the stories, including "cut scenes", additional books, or even background and character matter.
When the books are produced as audio podcasts, you'll get access to the episodes EARLY and get the entire book as a complete audio book when it's done.
Who knows what else, really? I'm constantly brainstorming ideas. From badge ribbons you can wear at conventions to stickers to maybe something else. You never know.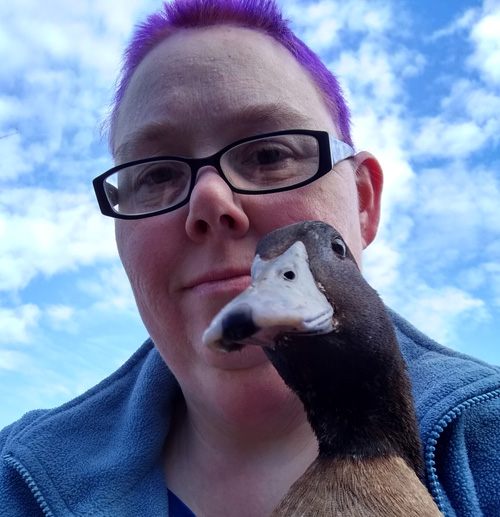 Mary Kit Caelsto never grew out of the phase of being a "horse crazy girl". Though she's now over 40, she's finally fulfilling her dream of writing equestrian books for others who haven't grown out of being "horse crazy". She lives in the Ozarks with her four very spoiled and very opinionated horses, as well as a large flock of poultry and enough cats to qualify her as a crazy cat lady. Her husband, though not an equestrian himself, understands and supports all her equestrian dreams.
She's convinced three of the best things in the world are the smell of a sun warmed horse, the smell of leather tack, and making sure to hug her horses every single day.
Picture of the author and "SuperDuck" taken 3/2019. Hair color varies depending on mood.