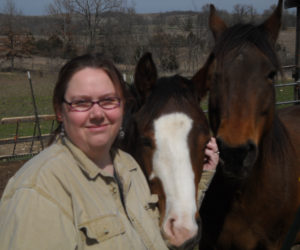 Official Bio:
Mary Kit Caelsto never grew out of the phase of being a "horse crazy girl". Though she's now over 40, she's finally fulfilling her dream of writing equestrian books for others who haven't grown out of being "horse crazy". She lives in the Ozarks with her four very spoiled and very opinionated horses, as well as a large flock of poultry and enough cats to qualify her as a crazy cat lady. Her husband, though not an equestrian himself, understands and supports all her equestrian dreams.
It was horses that brought her into fantasy through Mercedes Lackey's Companions. From there, she loves reading all kinds of speculative fiction, though she admits her favorite stories have strong animal characters.
She played the clarinet in high school, which prompted her Musimagium world, and now, she loves mixing the animals she loves with music and magic in her fantasy world.
She's convinced three of the best things in the world are the smell of a sun warmed horse, the smell of leather tack, and making sure to hug her horses every single day.
From Mary:
 My mom doesn't understand how I grew up loving the English disciplines, when she grew up on Roy Rogers and the Lone Ranger. But she supported me, and I sold girl scout cookies to finance my way through four years of horse camp. Then, I cleaned stalls and worked in exchange for riding lessons. A bad fall has left me with a fear issue that I still hope to work through eventually. Yes, my horses are pasture ornaments, though we do groundwork together quite often.
It wasn't until August of 1999 that I owned my own horse. Fortune, a grade mare, was an "oops" foal out of a mare who had been in and out of the stock yards. I paid $100 for her. That's her in the picture with Firefly, her pinto foal out of Thunder, one of my horses who was a gift to my mother. (Thunder was a stallion purchased for $200 from the seller of the property. I kept him intact for one heart foal.) My fourth horse is Holly, a rescue from a kill pen. We're still getting to know one another, and I'm hoping Fortune, Firefly, and Thunder have convinced her that this is a good place to be a horse.