When I boarded Fortune at the barn in Iowa, I made it a point to get her the silly fly masks. Not only was she the only horse in the pasture with them on, but also it made others laugh, and I thought it was pretty funny too. I haven't been using fly masks here, due in part to my working in the office in town, which meant I couldn't keep an eye on the horses. You see, horses are like 1000-lb toddlers, willing and able to get into trouble at a moment's notice. Or without notice! Where I boarded her, someone was around all the time. But the flies are extra bad here and I knew I needed to do something.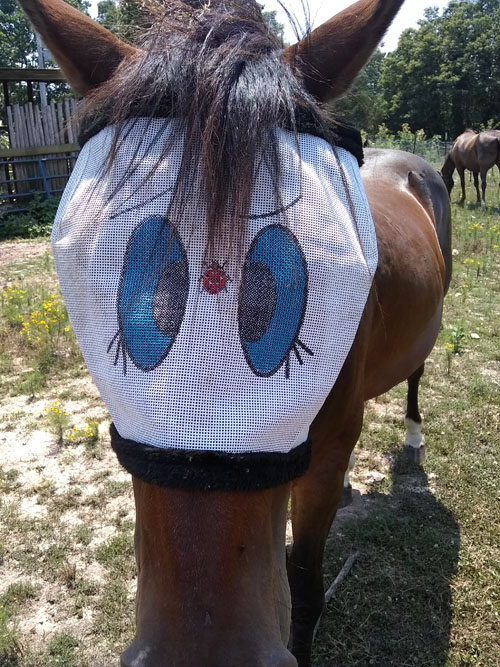 I finally put the masks on yesterday. And I admit. I'd forgotten how silly Fortune looked. I turned the corner on my lawn mower, saw her looking at the house with those big eyes, and I bust out laughing. Thankfully my husband didn't notice or I would have felt pretty silly. Then again, he's used to me laughing at the horse's antics, so probably wouldn't have even thought about it.
Fortune seems to enjoy her mask. At a stately 20 11/12 (she'll be 21 next month) she's not inclined to do silly things to take her mask off or lose it some where in the pasture. She likes the ones with the white mesh like this one. (Thunder's wearing the one I originally bought for her) and I have several from previous years that I want to fix and maybe add some new fleece to.
A bit of practical mask safety: When a horse is wearing a fly mask it's vital you inspect it daily to make sure that it's not rubbing anywhere or doesn't have burrs or anything caught in it. In addition, make sure it's fastened securely. I went out today and saw Thunder had skewed his mask off of one ear. I fixed it, and he appreciated it, but it's important that for horses in the pasture the masks have velcro that can release if it gets caught. I'm rather sad that the cute unicorn and sloth fly masks I bought from Professional's Choice didn't come with the velcro. I don't feel that they're safe enough for 24/7 wear, even if they are totally adorable.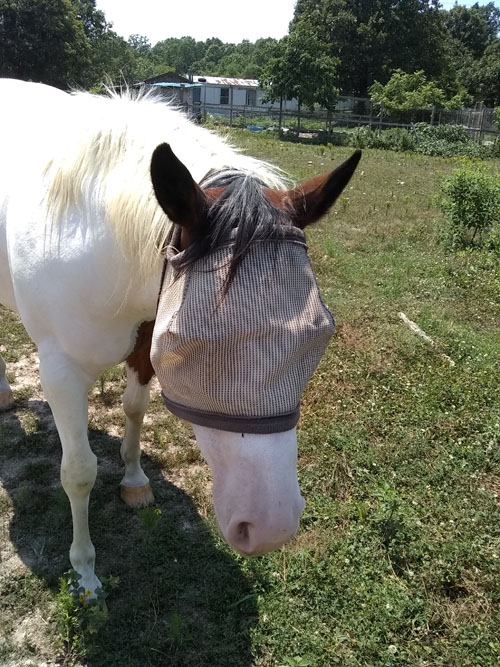 Thunder needs a bit more help in addition to the mask. This time of year his little pink nose (okay big pink nose) gets sunburned. I alternate applying zinc oxide (I still have about half a dozen tubes left over from mom's nursing home days) or SWAT (by Farnam) which is a fly repellent with sunscreen in it. Just like humans, it's important that horses get sun protection too.
I snapped these pictures this afternoon and was happy that they'd just stepped out into the pasture. On these hot days, they alternate between standing in the shed and going outside to graze for a bit. In the evenings, they graze the front half of the pasture, which is still rather lush in spite of our hot, and kinda dry days.
I promised pictures of Fortune in her silly fly mask to people on Twitter, so here you go!