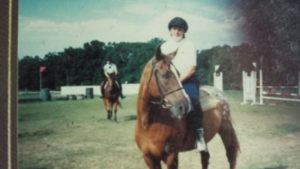 I finished going through my mom's belongings, the boxes in the storage shed, last weekend. And among the knickknacks and her nurse collection were old pictures. Pictures that brought me back to my horse crazy childhood, and yes, brought tears to my eyes. Meet Mr. Chips. A huge sixteen hand appaloosa who had two speeds: slow and do we have to move. I participated in a "three day event" held there at the farm, where I was told I could just trot or canter around the edge of the cross country field instead of jumping since I wasn't jumping much yet. Likewise with the stadium umping course. I could just pass the jumps and remember the course.
I was fifteen or sixteen, working at Winds Reach farm in Iowa City spending long hours in exchange for riding lessons on Mr. Chips. He was worth his weight in gold. Alas, he's probably gone on to higher pastures by now, since we were both teenagers at the time. But I loved that horse. And in these pictures I found in mom's belongings, I reconnected with the horse crazy girl I once was.
You see, I have very few memories of my childhood. Most of that is due to disassociation, so finding these pictures was like opening a window. I know that's me in the pictures, but I can't remember. In fact, from this experience, all I remember is that while I left Mr. Chips with hay and water in the stall we were using, he'd knocked over his bucket at some point and I got yelled at for leaving him without anything.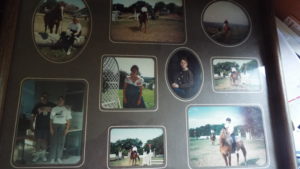 That picture is part of this collage that mom had made. More pictures of me on Mr. Chips that day, plus my senior picture (the gold and blck sweater), pictures from a family member's wedding, and a picture with a now-passed uncle. These were pictures that made mom proud, that reminded me of the good aspects of my childhood and of my love of horses then.
I'm also reminded of innocent dreams, of believing I can do anything, and when I look at those pictures, I think, perhaps, I really can…