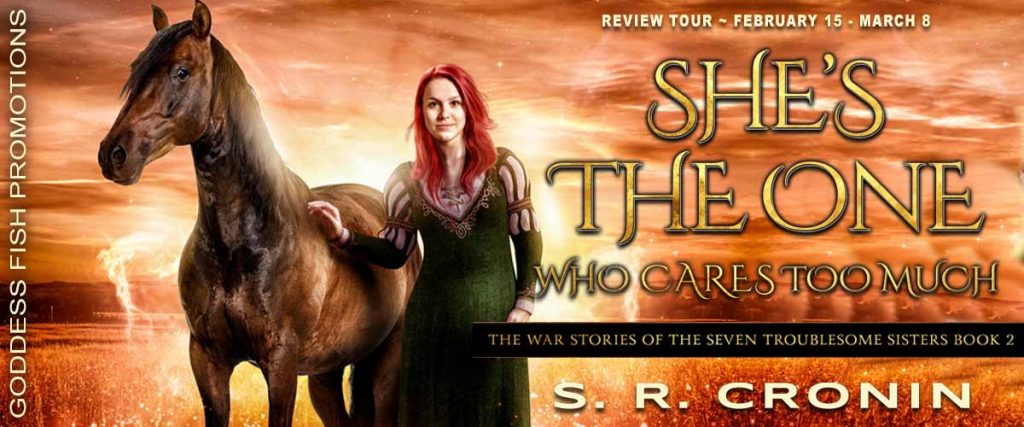 If there's a genre for fantasy women's fiction, then this book certainly fits. I won't lie, the horse on the cover drew me in. Yeah, I'm predictable. *smiles* And although I missed that this was a second book in the series, I felt right at home and didn't feel as if I missed any part of the story. Coral is a strong character, one who goes through things that women experience today. I enjoyed her point of view and believed her to be a reliable narrator.
Her world is lush and well-built, with rich detail in the seasons, the words used, and the country names. Maybe if I'd read the first book I might have noticed it, but having the invading force be "Mongols" seemed very out of place, an anachronism in this otherwise richly detailed fantasy world. I'm also not a fan of cliffhanger endings and this book has one. Perhaps because it felt more like a fantasy volume rather than young adult or academy, two genres which tend to have more cliffhangers.
In spite of those things, and they are very minor things, I read this book in just a couple of sittings and loved the tale of Coral and the battle, not just within her family, but also within her country. She came into her power and wielded it well to protect those she loved. I'm glad I got a chance to review this book.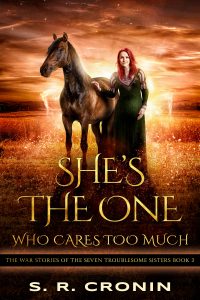 Coral, the second of seven sisters, has been hiding her affair with the perfect man until her older sister can get her life together. But the perfect man is getting impatient and now she's gotten pregnant. Coral decides it's time to consider her own happiness.
But what does she want? The perfect husband turns out to be less than ideal. She adores the small children she teaches but the idea of being a mother fills her with joy. Meanwhile, her homeland is gripped by fear of a Mongol invasion and she can't stop crying about everything now that she's with child.
Then a friend suggests the ever-caring Coral possesses a power well beyond what she or anyone else imagines. Does she? And why is the idea so appealing?
When Coral's big sister loses faith in the army and decides to craft a way to use magic to save Ilari from the Mongols, she decides Coral's formidable talent is what the realm needs. Can Coral raise a baby, placate an absent military husband who thinks he's stopping the invasion, and help her sister save her homeland?

Purchase from Amazon
EXCERPT


"What's your name?"
His tone demanded a quick answer and even the tension in his stance told me we were in danger.
"Coral. I teach the youngest children."
"Good. Coral. Get all the kids into the barn, where you can close boards over the windows. Have them burrow into the hay and keep them quiet. Get the other teachers to help you. There's no time to waste."
Because my classroom sat at the front of the school, I'd been the one to meet this army officer when he came to the door. He said they'd ridden here in haste, because of a report of vicious thieves nearby.
"May we grab our things out of the classrooms first?"
He hesitated. "Yes, but tell everyone to be quick about it. We don't know how close they are."
I'd heard stories of such groups attacking other schools, of course. It didn't happen often; Ilari was as safe as one could hope. But once in a while a band of thieves crossed the Wide River, or came in through the grasslands of Bisu, prepared to grab everything of value they could before they fled the realm. Schools were easy prey, and known to keep coins on hand to handle their expenses. Teachers had died in such skirmishes, and children too.
I yelled to the two teachers within earshot, instructing them to tell the rest. Each of us should get our own students to safety. Then I returned to my classroom and my little ones. They'd heard everything, of course. Only seven and eight years old, now they huddled together and cried.
"No crying," I said in my firmest tone. "We'll be fine. The Svadlu are here. See all the nice brave soldiers out there to protect us? Now hush."
The room quieted. "We're going to play a game where we all pick up our things and see how fast we can tip-toe into the barn. Like bunnies." A few of the children giggled nervously at the idea but they all did as I said, running on their toes behind me. A few of the braver ones made rabbit ears with their fingers as they ran.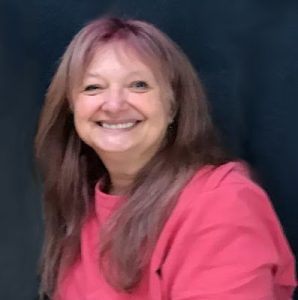 Sherrie Cronin is the author of a collection of six speculative fiction novels known as 46. Ascending and is now in the process of publishing a historical fantasy series called The War Stories of the Seven Troublesome Sisters. A quick look at the synopses of her books makes it obvious she is fascinated by people achieving the astonishing by developing abilities they barely knew they had.
She's made a lot of stops along the way to writing these novels. She's lived in seven cities, visited forty-six countries, and worked as a waitress, technical writer, and geophysicist. Now she answers a hot-line. Along the way, she's lost several cats but acquired a husband who still loves her and three kids who've grown up just fine, both despite how odd she is.
All her life she has wanted to either tell these kinds of stories or be Chief Science Officer on the Starship Enterprise. She now lives and writes in the mountains of Western North Carolina, where she admits to occasionally checking her phone for a message from Captain Picard, just in case.
Author Social Media Links:
Twitter: https://twitter.com/cinnabar01
Facebook: https://www.facebook.com/46Ascending
Goodreads: www.goodreads.com/author/show/5805814.Sherrie_Cronin
Amazon: www.amazon.com/Sherrie-Cronin/e/B007FRMO9Q
Author Blog: https://sherriecronin.xyz/
Book Series Blog: https://troublesome7sisters.xyz/
S. R. Cronin will be awarding a $25 Amazon or B/N GC to a randomly drawn winner via rafflecopter during the tour.
a Rafflecopter giveaway