Lights! Camera! Action!
When my book Call It Love, Book 3 of the Beaumont Brides Series, started to germinate in my head, I knew I wanted to create a Hollywood romance for my two characters―Addison and Spencer. It was the perfect book for me to write. Because I'm a Southern California girl, I actually had a little bit of experience with the film industry.
The studios are always looking for background actors, and I learned about these opportunities by word of mouth. Many of the background actors were serious actors and hung out at the studios. They learned about the casting calls first and scooped up the openings that provided face time and could lead to something else. For someone like me who has no acting experience, these gigs were a great way to pad an income.
The jobs can vary in length from a day to much longer. The gig paid more than most high school jobs, and the studio supplied delicious, catered meals. When I would hear about the call, I'd try to find out what to wear that day―did they need bikini clad girls (my mother would never permit it), girls in dresses, winter clothes? Whatever they needed, I'd fit the call.
When we arrived, and if we were selected for a scene, we had to register. We were paid at the end of the day so they needed our information to make sure the checks were processed correctly. Once on the set, everything was locked. They were paying us to work, not leave then return when filming had been completed to pick up the paycheck.
And what was the day like? It could be pretty boring. We waited around for our scenes to be setup. We had to listen to directions and watch cues to make sure we performed correctly. The stars could make mistakes, but we couldn't. We'd walk across the set or dance or pretend like we were afraid or angry. We had to be quiet. The sound was dubbed in later.
It was fun to remember these experiences and recreate them in my book Call It Love. The film industry can be full of surprises and I enjoyed every minute of it. To find about Addison's and Spencer's Hollywood romance, click the link below to download a sample or buy this sweet romance today!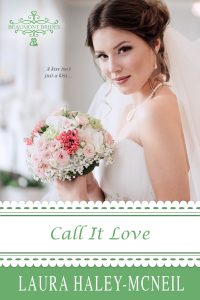 A kiss isn't just a kiss …
Struggling actress Addison Duvall hustles background acting jobs at the Hollywood studios in hopes for her big break. When she's cast as the stand in for the lead actress in a blockbuster spy film, she can't believe her luck. The surprises rush in―her first test shot is with Hollywood heartthrob Spencer Kingsley. Her even bigger surprise is when the director yells, "Action!" and Spencer presses his lips to hers in a kiss.
Behind Spencer's Hollywood façade hides the secret pain no one suspects. He's the first to take a risk except when it comes to his heart. He can't deny he and Addison have chemistry―chemistry onscreen and off―and he's tempted to lower his guard. She seems real, not like the women he usually meets.
Once Addison's star rises, so do Spencer's doubts. She's no different than the others looking for the connection to catapult their careers. He won't let another woman damage his heart. His decision made, Spencer wishes her success.
But it's already too late. How does he heal this Addison shaped hole in his heart? Should he risk more heartbreak for another chance at love?
Purchase from Amazon today: https://amzn.to/33Y0LAb