Real Locations vs. Fictional Locations
There are towns which invite their use in popular fiction. They include San Francisco, Los Angeles, New Orleans, Dallas, Las Vegas, Boston, New York, and Washington, D. C. Unless writers get specific about streets and businesses downtown, it's possible to blend a story into the large city's population. Then, the city's notoriety becomes a character in the book.
I've used a few real places with no complaints. The problem arises when the author names a particular street address. A reader who lives or has lived in that city might protest that there is no such address. If an author writes that the character drove east on Elm and turned left onto Pacific, a reader might say Elm Street is one-way going west, etc. A story involving an unsavory politician, for instance, might upset a reader who believes his or her favorite politician is being satirized. Naming a business and giving a street address could create a problem.
Numerous romance authors have successfully used real locales. Kirsten Osbourne has a Sisters of Seattle series among her many others. Jo Noelle has TWO-STEP WITH TESS set in Creede, Colorado. Cynthia Woolf has a Brides of Seattle Series and one about brothers in Deadwood. My latest western historical release, POLKA WITH PAULINE, is set in Creede, Colorado.
Through the years I've become a fan of fictional locales. The town can be any size I need and have whatever businesses I wish. At the start of the project, I make a list of businesses and their owners and their children (if any). If this is a series, I make a map of the town. I can't have the attorney's office next to the bank in one book and have it down the block in the next book.
I have fun making up the town name. For instance, in my Bride Brigade Series, I called the town Tarnation, Texas. That makes me smile whenever I see it. Being certain there isn't an actual town of the name of my fictional one is important. This is where Google saves a lot of time. If the setting is in Texas, I can use the Handbook of Texas online, sponsored by the Texas State Historical Association. Most states have something equivalent.
One of the great things about being a writer is that we are able to choose where we set our books. That is only one of the reasons I love being a writer.
About the book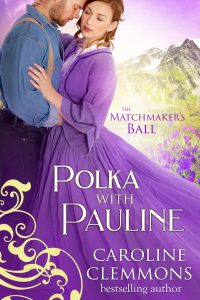 Pauline Brubaker arrives in Creede, Colorado from Denver to help care for her aunt while the aunt's broken leg heals. Her aunt and uncle are special favorites of Pauline's. They've recently retired to Creede due to her uncle's heart problems. Pauline's hesitant to give in to her attraction to Creighton because she will only be in Creede the few weeks her aunt needs her help. Her parents and her life are in Denver.
Creighton Reed makes amazing pieces of furniture. They sell as fast as he can create them. Creighton meets Pauline when her aunt and the sponsor of the Matchmaker Balls conspire to have them attend a dance together. He is immediately attracted to Pauline but she gives mixed signals. Later a man who claims to be her fiancé warns Creighton away from her. Creighton tells the man he'll believe Pauline's engaged when she tells him.
Two fire bombs destroy Creighton's workshop and his living quarters in the back, and he's almost trapped inside. Fortunately, he has purchased a house in order to marry Pauline and had moved some of his things there before the fire. Who sent firebombs into his workshop?  The arsonist must be caught before Pauline, her aunt and uncle, and Creighton are safe.
Purchase at Amazon: https://amzn.to/2JnMTpw
Excerpt
Pauline and Creighton were playing chess when the doorbell chimed. He'd been calling on her two or three times a week.
Uncle Henry folded his newspaper. "Not expecting anyone. I'll see who that can be."
Pauline froze when she heard the visitor's voice. What on earth was he doing here?
Creighton looked up from the chess board and stared at her face. "I should go."
She reached across the game table and laid her hand on his. "There's really no reason to leave. Please stay."
Henry led the way into the parlor. "Jasper Tabor, this is Creighton Reed, a local friend."
Jasper surveyed the room. "I hope I'm not interrupting your evening."
He was a handsome man whose attire was neat and of the latest style. His light brown hair was sleek and his handlebar mustache waxed to perfection. She could find no fault with his appearance. She couldn't pinpoint a single reason for her distrust. Perhaps it was the predatory look in his brown eyes.
Uncle Henry gestured to her and Creighton. "Not at all, Jasper. Creighton is a good friend. Have a seat. What brings you to Creede?"
Jasper sat in the new rocking chair. "Curiosity mostly. I wondered how you're getting on here. Fred thought I should check on Pauline."
Pauline stared at him. "Did Papa send you to check up on me?"
About the Author
Through a crazy twist of fate, Caroline Clemmons was not born on a Texas ranch. To compensate for this illogical error, she writes about handsome cowboys, feisty ranch women, and scheming villains in a tiny office her family calls her pink cave. She and her Hero live in North Central Texas cowboy country where they ride herd on their two rescued indoor cats and dog as well as providing nourishment outdoors for squirrels, birds, and other critters.
The books she creates in her pink cave have made her a bestselling author and won awards. She writes sweet to sensual romances about the West, both historical and contemporary as well as time travel and mystery. Her series include the Kincaids, McClintocks, Stone Mountain Texas, Bride Brigade, Texas Time Travel, Texas Caprock Tales, Pearson Grove, and Loving A Rancher as well as numerous single titles and contributions to multi-author sets. When she's not writing, she loves spending time with her family, reading her friends' books, lunching with friends, browsing antique malls, checking Facebook, and taking the occasional nap. Find her on her blog, website, Facebook, Twitter, Goodreads, and Pinterest.
Join her and other readers at Caroline's Cuties, a Facebook readers group at https://www.facebook.com/groups/277082053015947/ for special excerpts, exchanging ideas, contests, giveaways, recipes, and talking to like-minded people about books and other fun things.
Click on her Amazon Author Page for a complete list of her books and follow her there.
Follow her on BookBub. To stay up-to-date with her releases and contests, subscribe to Caroline's newsletter here and receive a FREE novella of HAPPY IS THE BRIDE, a humorous historical wedding disaster that ends happily—but you knew it would, didn't you?