In the grand scheme of things, it's a "very Mary" thing to have happened. I had purchased a small T-stand on ebay. Cheap — too cheap really. And when it came, the base was maybe 3×5″ which the perch maybe 4″ wide. I think it'd be just about perfect for a parakeet. A Serama chicken, not so much.
However, I wasn't as concerned about the stand's size, because more importantly I wanted it as a template. Back when I attended bird fairs through the Mid-America Cage Bird Society, a gentleman there made tabletop stands out of countertop material, which made them awesome to clean up. I think I still have mine. Alas where? I don't know. But it was the prefect size for my pionus parrot, and it'd be the perfect size for my mini chicken too.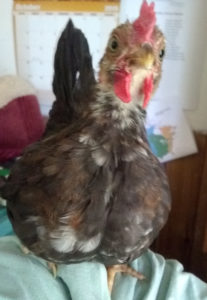 So, I had the too-small stand next to my laptop and I put Sir Gallahad on it. He sat there, but it was clear that the stand wasn't quite wide enough for him, not to mention his bulk made it tippy. He fluttered his wings and jumped off of it toward my laptop. Normally that wouldn't be a problem, except I had a cup of coffee next to my laptop (bad writer, I know!) and he jostled it enough to spill about half of its contents into the laptop.
My old laptop was a refurbished unit I'd bought back in 2012, so suffice to say, it didn't owe me anything. The hinges had been killed, and repaired, from a cat jumping too enthusiastically across my computer and breaking them. The edge of the case since then, popped up a little. The keyboard lost letters occasionally. Gotta love too obnoxious, yet enthusiastic cats. And I popped the letters back on, so yeah, that ol laptop had taken a beating.
Luckily I found my new one. A refurbed business class Dell that seems to be serving me well. And, I found a seller on ebay with an awesome deal on a new motherboard for the old laptop, so there still may be life in the old girl yet. We'll see.
But until then, Sir Gallahad is the chicken who killed the laptop.