I had an office bunny for several years. Mr. D'Hoppryn II came to me as a swap. This guy thought he'd swindle me, and said he'd take a bunch of metal junk off our property to sell and he offered me a rabbit in a large pet carrier. Now I'm pretty sure he bought the rabbit at the animal auction I'd been to looking for chickens a few days prior. Several old bucks went for $2-4. So I'm sure this guy thought he got the good end of the deal. Nope. I got a bunny. (And a big pet carrier. The kind that sells for like $30-40.) Mr. D'Hoppryn II passed away of old bunny age a couple of years ago. And I wasn't sure I'd have a bunny again. Hay fever makes me break out in hives when I have to deal with hay (awesome for a crazy horse lady) and he had long almost angora-like fur. He was my "office bunny".
Fast forward. My husband and I went to the local small animal auction and we were talking about rabbits. He'd had one as a kid and was keen on getting another one. Almost two weeks ago now, I was at the auction. It was the Saturday of easter weekend and like 40 rabbits had gone through.
I sent my husband a text: I'm being good.
The next text I sent? Oops.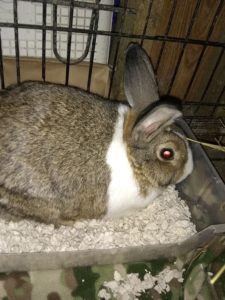 Meet Oops!
Actually I'll be working on a new name for him, but he was in the last lot of rabbits. People one, by one, bought the others (for $4). And he was all alone on the table. The auctioneer was like "anyone? Anyone want this rabbit?" You could almost hear him going "Bueller? Bueller?".
I muttered 'oh hell' and lifted my hand. Tada. I'm the new owner of this little bunny. He's skittish, settling in well, and I think still amazed at how spoiled he's been (and going to be). We're working on potty training.
I'm happy to have a rabbit again and look forward to his making an appearance in stories really soon!