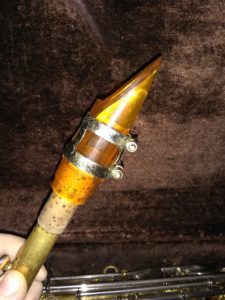 I haven't talked about my teaching myself to play saxophone, mostly because there wasn't much to say. But after the success I had with the new clarinet mouthpieces (and did I mention they're pretty?), I wanted one for my saxophone. I found this orange/amber model. Yes, they will be showing up in future books.
I made sure that it fits with my poor beleaguered (but tuned up) saxophone. It does. And it looks good, if I say so myself. I'll let you know how it plays next week. I promise.
Like the others it's a Gigliotti mouthpiece, designed for a student/beginner. Maybe there will even be videos coming soon.