Somewhere around Thanksgiving (I can't remember now if it was before, or after), I commented on a Facebook contest post about Thanksgiving. I think it was before, because the question was something along the lines of "what are you going to do for Thanksgiving?" I replied that we were going to have a small meal, but not do much since my mother passed away recently. At that time, I honestly wasn't sure I could get through baking the turkey (something we always did together) without breaking down, so we were going to err on the side of having cornish hens for my husband and I and some sides.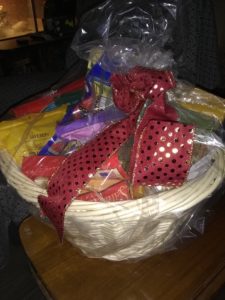 Well imagine my surprise when I found out Lafeber Bird Company (producers of Nutriberries, which the pionus boys love!) wanted to send us a basket. When it arrived, I actually did a little happy cry in the parking lot of the mail box store because it was amazing!
And the pionus boys are very very thankful. They even included a bag of their popcorn Nutriberries, which are Braynon's favorite. He makes the cutest little "yum yum" noises when he eats them.
I just wanted to give a huge thank you for this generous gift. It was such a heart-felt gesture and really means so much to me. I, and the pionus boys, are thrilled. Thank you.